A few lifes ago I made cake for the first time (I tried once before, but gave up as my town didn't have a cow.) and everything went pretty smoothly even if I didn't know the specific steps. Then I came to the blueberries. I searched about 3 minutes for a rock biome and when I finally found it the blueberries were not even flowering. I waited about 7 minutes for them to fruit. I didn't want to leave as I didn't know how long they'd be fruiting. When I finally got a full bowl and returned to my town I realized that I needed another bowl and ran back, hoping they'd still be fruiting. Luckily they were.
I thought to myself, it shouldn't take that long to get some blueberries, but if you just lowered the time it took them to fruit, they'd make a too convenient early game food. So I came up with this recipe idea: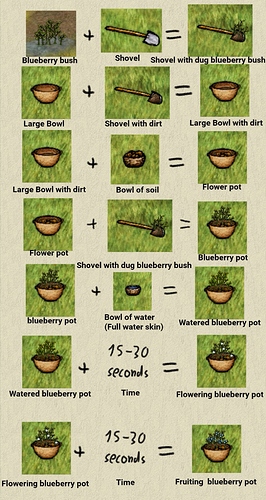 I think it should be complicated and expensive enough to keep it from making blueberries the new gooseberries, but still easy enough to make a few for your bakery.