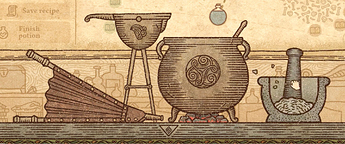 It would be fun to make some potions in game. Like something against mosquitos might come handy. Or beeing a bit stronger to manage some heavy stones (like Asterix and Obelix).
There are already bowls for crushing some ingredients, a pot to collect ingredients and fire to finish the potions. We could fill the potions into jars and label them. If the potion has no effect, the label will stay empty. So it will be a mystery, what mixture actually helps. If you mixed something helpful the label shows what it might help with.

You would drink the potions to get the effect. You can either take it directly from the pot with a bowl or fill it in a jar first so you are sure what you are drinking. The food pips would go up like with pine needle tea.
Whats missing are a bit of ingredients. Some flowers and herbs would be nice to have. Mushrooms we have 1 kind. We already have some leaves, fruits and seeds.
Maybe the fertility recipe could be added to the pot system. For birth control add 5 crushed carrot seeds to the pot and fill it with 2 water. So you get like 5 bowls of birth control potion. And for fertility you add like 5 pine needles to the pot and 2 water. You get 5 bowls of the fertility potion.
The pot system would allow to make potions, soups and teas.
What kind of potions would you like to see in game?