@paper
It's happening…


Sweet, right?
Wow. Amazing, such a big suggestion which gets added! And after one month to. That would be amazing to see. Don't get to shocked, @paper
. Pretty logical it happened though, the post got 14 likes!
They kind of look like the mosquitoes.
今からでもいいから、サーバを強化してPC版を移植してほしいです。スキンや食べ物の追加ばかりでつまらないので人が減るのだと思います。
PC版(OHOL)の内容は追加(移植)しないと言っていたような気がします。
サーバーの強化はそこまで必要そうに感じないですけど
Black powder, Gun, Bomb and Fireworks…
黒色火薬、鉄砲、爆弾、花火…

Wow, that is an amazing suggestion! Here in my post about my balloon suggestion, Balloons @Kingc3530 said fireworks! I tried making a recipe but… thats a hard task. But this is a very good suggestion, i like it and the different colors you can do for your fireworks. It costs a lot of time to make it though but that seems worth it! I also like the gun suggestion, the bullets are not to hard or to easy, and the gun is pretty hard but thats logicaly for that weapon.
I feel like guns are a bit too advanced.
Agreed! I personally feel like there is a lot of low level tier tech weapons we still could use. Like spears, crossbows, maybe even a sling shot lol. Just thinking of a few low tier tech weapons we had on Ark SE
I'm actually curious about how guns affect ESRB ratings. It probably doesn't mean much to mobile games tho.
I really want to see grain alcohol made from corn and copper parts for distilleries. You can make it for chemistry, medical and consumption.
Guns are honestly not that advanced tbh. Though maybe not a triggure based one like the one he suggested but a front loaded musket would fit in perfectly. Dynamite and fireworks are super simple as long as one knows how to make explosive powders.
I know gunpowder seems super complicated because of the smokeless nitroglycerin based powders we use today but the gunpowder that would likely be used would be blackpowder, a combination of sulfer, charcoal, and saltpeter (nitre). All of these are already in the game i believe and it wouldnt exactly take a scientist to mix a bunch of combinations of the three untill they figure out what combinations actually explode when lit. As long as they knew the 3 ingrediants that is.
I want rice saki >.<
I want potato vodka >.<
I want mead from honey and maple syrup >.<
I want maple syrup >.<
I want beer from wheat >.<
I want fruits for fruit wines >.<
I want cactus fruit wine >.<
本家ohol では既に実装されていますが、YouAreHopeでも黒色ペイントをやりたい!
全く同じものをというわけにはいかないので、ohol では木炭を使用した"Vegetable Black"のところをYouAreHopeでは煤を使用した"Lamp Black"にしてみたらいかがでしょうか?
[https://ja.m.wikipedia.org/wiki/黒#炭素系黒色顔料]
石の道をペイントしてチェス盤風にしてみたり、トロッコにペイントして蒸気機関車気分を味わうのも面白そうです。
It is already implemented in the original ohol, but I want to do black paint in YouAreHope!
But will original author not allow the exact same craft.
So, while Ohol used "vegetable black" made from charcoal as a pigment, YouAreHope proposes to make a Black paint using "lamp black" pigment made from "Soot".
It seems to be fun to paint the stone path and make it look like a chessboard, or paint on a minecart to taste the steam locomotive feeling.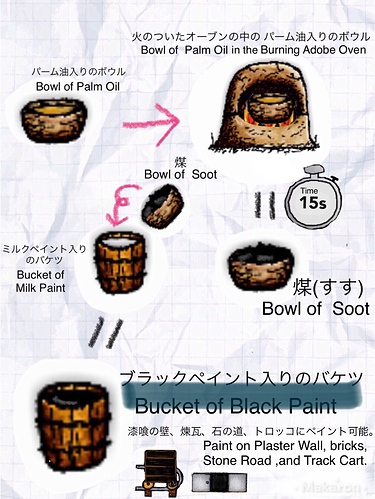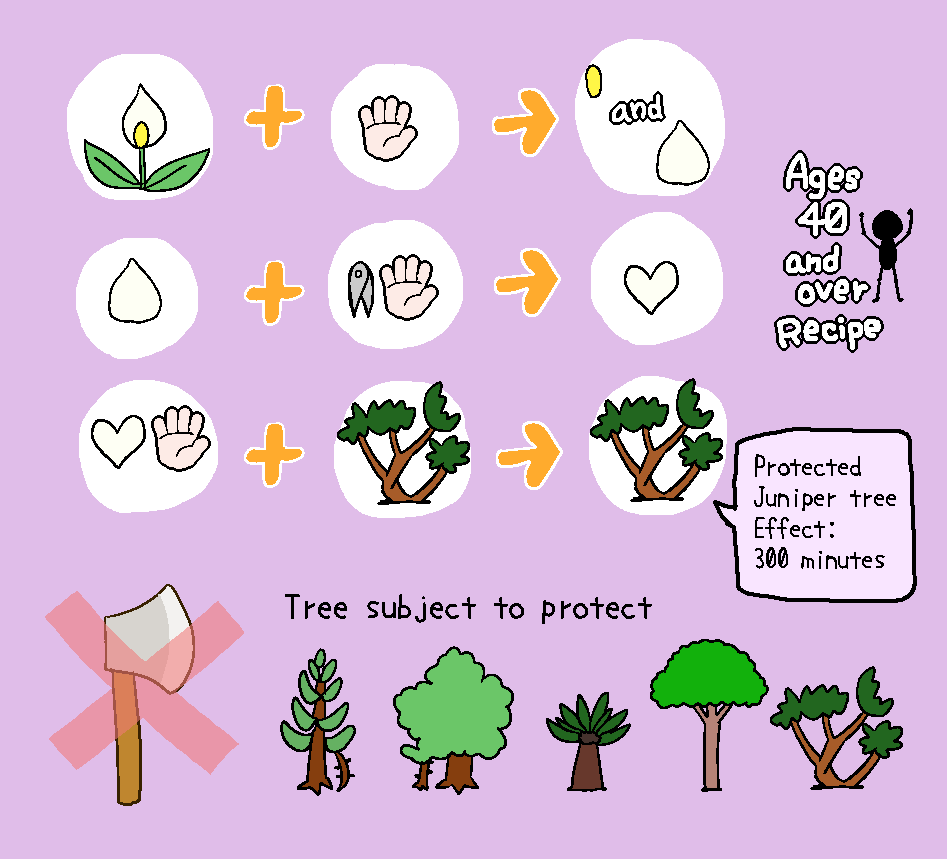 New item:
Heart of peace
Material:
Scissors
Lily of peace
Effect:
Protect from ax
300 minutes
新しいアイテム:
平和のハート
材料:
はさみ
平和のゆり
効果:
斧の伐採を防ぎます
300分有効
ここから日本語です。申し訳ありません。
特徴:
1.平和のゆりは再生マーカーや殺人禁止などの効力を持っています。
きっと、村の大事な木を斧守ることも可能です。
有効時間の300分。
日本サーバーの私の家系図を見ていると7~8世代で終わる一族が多いので、300分守ることで十分だと思いました。
(少し長いかもしれません)
2.生まれてから40歳以上の人が作れる、魔法のアイテムです。
40年過ごしたら、その村の大事な木が分かるには十分な時間です。
それに女性が子育てを終えるのも40年です、丁度よい区切りだと思いました。
**悪用を防ぐための年齢制限でもあります。
良いプレイヤーが、「長生きして良かった」と少しだけご褒美を貰えるのは良いことです!
見てくれてありがとうございます!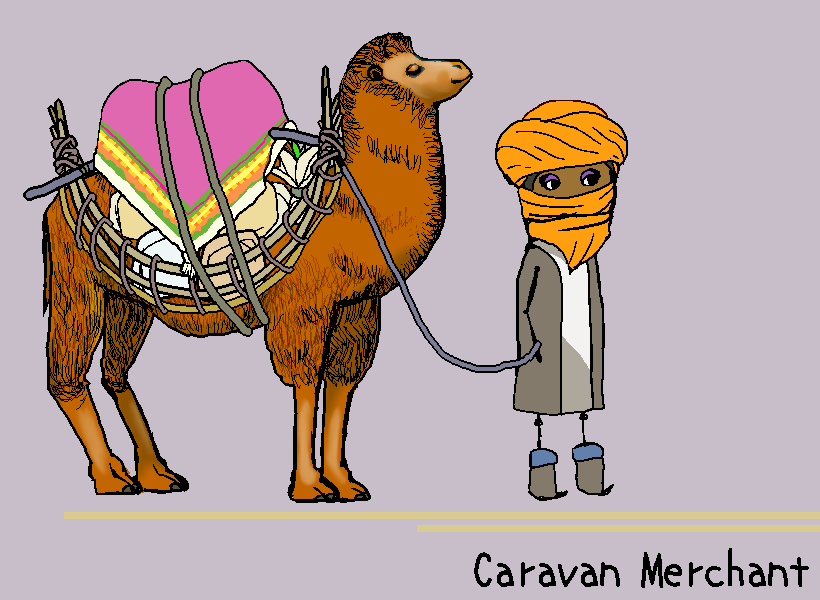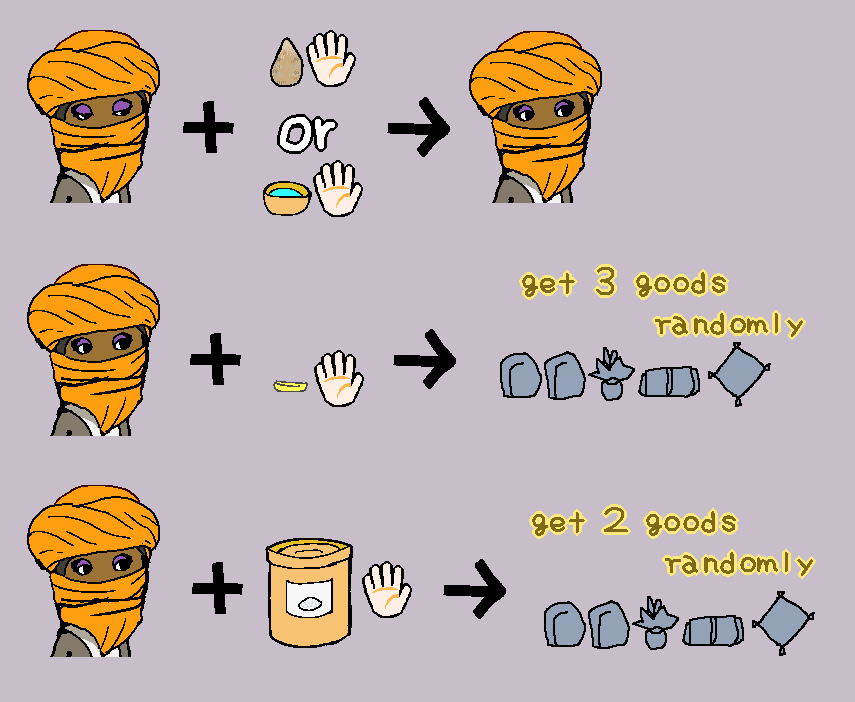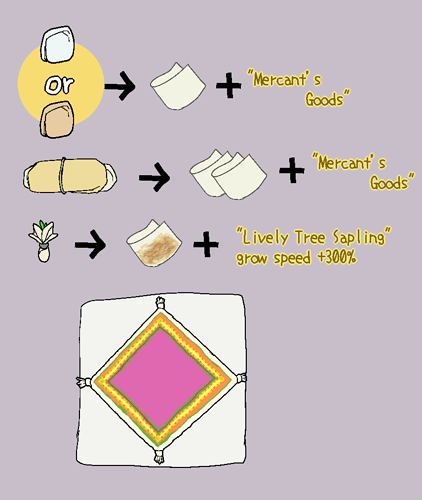 こんにちは!文章は全部日本語です。
Currency
通貨の提案スレッドを見て、商人(交易)のアイディアを考えました


(歴史を調べると、キャラバンは塩や金や品物を交換していました。)
使い方:
砂漠にランダムに現れる商人とラクダを探します。
最初、商人は目を閉じて疲れています。ウサギの皮に入った水か、ボウルに入った水を与えます。
元気が出た商人に金インゴットか、塩を5杯入れた壺を渡します。
商人は決められた数の商品をプレイヤーの周囲の空いた場所に落とします。
*水を与える時の容器・塩を入れた壺は商人が受け取るので、無くなります。
**商人は1~3回の取引の後、サンタクロースのように姿を消します!

商人の品物は、受け取った価値によって、2~3個選ばれます。(確率)
小さな荷物 *2 (20%*2=40%)
大きい荷物 (28%)
苗の荷物 (28%)
敷物 (4%)
小さな荷物や大きな荷物の中身は、今は考えつかないのです


(今までに提案されたアイテムをゲームに取り入れる時などに使えるかもしれません…)
小さな荷物は1枚、大きい荷物は2枚の布(linen)で包まれていて、布として使えます。
Lively Saplingは通常の3倍の速度で育つ苗です。苗の種類はjuniper treeやゴムの木、アブラヤシの木など喜ばれる珍しいものが良いと思いました


新しい種類の野菜の苗が出てくるのも楽しいと思います!


苗の荷物の布は汚れた布なので、使うためには水で洗う必要があります。
敷物はクマの敷物のように、シンプルに床に敷くものとして考えました。
読んでくれてありがとうございます!

I want! Curry!!~~ Curry rice!~ Curry Pasta!~
monja's idea is nice. It's basically Santaclause-all-around-the-year. That caravan merchant appears on desert randomly. You give water or gold, then, in return, he will give you some items.
I like this very much and wish this comes into reality
i like the idea of merchant NPCs


Wow Curry!!~~~ i like this!~~:heart: