(日本語訳は下に)
It was a while since we released a new version now, and I figure you may like an update on what's going on?
First: our team members have had a decent vacation this summer. Most have had 4 weeks off to recuperate after an eventful time. At this time everyone is back at work, but we are still working remotely all of us. This way of working is a bit different in that it's harder to do short, small projects whereas doing bigger, longer projects still work pretty well. In other words, you should probably expect longer time between new releases than what you were used to before Corona times.
Second: For the next upcoming release, we planned to revisit and improve the mining system, and also pie baking. The ideas on the mines has grown though and will take some more time to finish, so we have decided to make it into two releases. Pies first and Mines second. We expect to finish the pies next week and then you will have a new look for all pies, plus a changed selection of what pies you can make. When the mining update is finished, you will have ways to dig your mines deeper and extract more iron from them, but also other minerals. It will be more work to build and run mines, but they will also yield more precious iron … and gold

.
Third: We are also working on a much bigger and more fundamental project, which will take a long time to finish. I will return to that subject and give you more information soon, but for now let's call it the "Secret Long-Term Project", shall we?

This consumes some development time that would otherwise go into small updates, but it will be worth it once it's ready, so stay tuned…
Here's a little preview of some of the pies:
こちらが新装パイのプレビューです:

A selection of different meat pies
ミートパイのバリエーション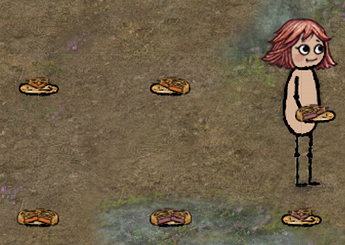 …and some of the vegetarian options
そしてベジタリアンの方にはこちら
ーーーーー
前回のアップデートからしばらく経ちました。皆さん、そろそろ開発がどうなっているのか知りたくなっている頃ではないでしょうか。
まず第一に:開発メンバーはこの夏しっかりとした休暇を取りました。大体が4週間、これまでの混沌とした時期の疲れを癒しました。現在、全員が仕事に戻りましたが、まだリモートワークを続けています。この働き方だと、小さな短期プロジェクトを進めるにはちょっと困難なのですが、大きな長期プロジェクトに関してはなかなか順調に進んでいます。つまり、今後は新しいバージョンリリースの間隔が、コロナのなかった頃よりも長くなるということです。
次に:次のアップデートでは、採鉱とパイ作りの改良を予定しています。鉱脈についての案が思いの外大きくなりまだ時間がかかりそうなので、二度のリリースに分けることにしました。まずパイ、そして次に鉱脈です。来週にはパイの改良を終わらせて、見た目の新装と、パイの種類の変更をしたいと思います。鉱脈の改良が終われば、もっと鉱脈を深く掘り下げてさらに鉄を得たり、他の鉱物も取れるようになります。鉱脈を掘る作業が増えますが、これまでより多くの鉄を産出します…そしてゴールドも

最後に:実は我々は長期的でもっと大きくもっと基礎的なプロジェクトを並行しています。これについてはまた別の機会にもう少し詳しくお知らせしたいと思っていますが、今のところはこれを「シークレット長期プロジェクト」と呼んでおきましょう

これにはなかなかの開発時間を要していますが、準備が整えばとても価値あるものになると思います。お楽しみに…