I've tolerated many forms of griefing. When they bring bears, I lure it away. When they hide items, I spend my life searching for them and putting them back in place. When they try to eat up all the food, I grow new crops as fast as I can. But killing, killing is the one thing that irks me to my core.
A griefing in today's game was the final straw for me. I was born to a nameless mother whose job was simple, maintaining the huge berry farm we had. She was new to the game, yet she was happy with her job. She even joked about how she almost forgot to feed me because she was too engrossed with watering the bushes. While everyone else was fighting to smith, or ride the horses, or make newcomen engine parts, my mom was happy doing the simplest task and I loved her for that.
She went away to get another bucket of water, but suddenly came back with a knife wound. She rushed to me and her only words were "she went left". I followed her directions and saw a woman holding a bloody knife.
I ran back to the village and warned everyone about her, but no one believed me. Her mother defended her precious daughter whom she entrusted the knife to. The murderer even came back and accused me of being crazy, and killed me for spreading these "lies". When viewing the family tree, I saw she had killed 2 other family members.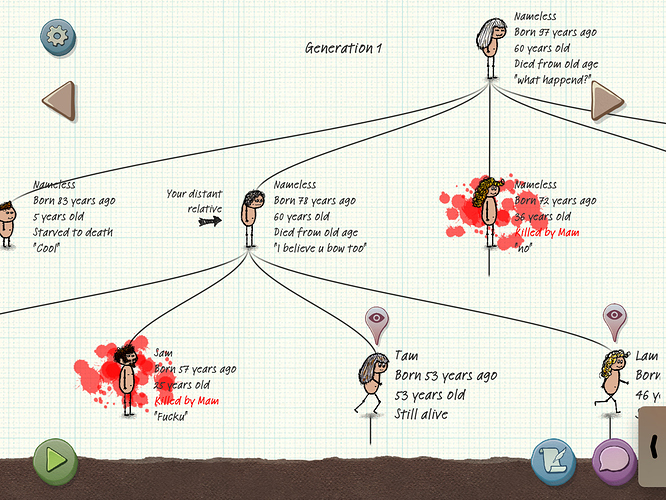 How do griefers do this? How do they get pleasure from killing innocent players who spend an hour trying to build a home for their children? Then continue to lie and kill again? Just the thought of it makes me physically sick to my stomach. Are these sick-minded people what the world is filled with?
It doesn't help that the curse system is basically just a way to placate the players who complain about griefers, without having any real effect or deterrence.
I used to be able to tolerate it because I would hop into solo play for a while to regain some sanity in a peaceful world of my own. Now that its gone, I feel like I'm losing my mind. This isn't healthy anymore. I broke down after it happened.
To my nameless mother, I'm sorry I didn't protect you.