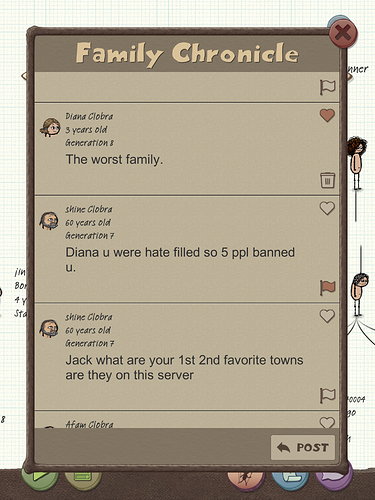 I was a new kid in the bell tower. And there was Clobra family who just settled in there… and I personally dont like a rich town because I am kinda new to this game. I wanted to learn from the start. So I always have prefered brand new starting towns. So I wanted to go away right away as soon as I came to know this is a bell tower town. So that they also dont waste their time on me taking care of me as the baby. But then they intentionally locked me in a huge room with doors so that I can mot go out … and gather their family member and waited me being 3 or 4 years-old. But then they never put me down and they all banned me. This is sooooo annoying. Just because it was not my type of playing. Wanted to suicide, but they forced me to stay and banned at the same time.
The more annpying thing is that one person insisted people to ban me and make me not be able to escape while locking me in… really What a psyco… I am really scared of this group. Just because to revenge them nc I wanted to die as 1 year old, they locked me banned me. And I became -B1. plz put it back. I have worked so hard always.
And I still remember the guy who was a psyco… his id is ID1139980. Is there also no punishment on him? His name was Shine Clobra. plz rewatch my play. I was sooo frustrated . this is crazy. u should see how scary people can be to revenge… I am so sad. Now I camt even go to bell tower again.
I also wanted to bannish him but couldnt…
And mine is ID1139996