[PART 1]
Infiltrating the "coders"
Ok here goes my first attempts on the game:
1st: I spawn as an eve and didn't know much about the game apart of living off with wild berries , carrots and bananas.
2nd: i spawn in a small village with a forge , it was a poor village without the necessary materials such as fertile soil to sustain the needs of a village but at the time i found it amazing because they had some stone tools i could mess around with. But soon i died because we had no food left.
3rd: i wanted to spawn back in that village because i thought i was just incompetent to find food by myself so i quickly found ways to kill myself.
4th: i spawn in an a small town , it had a sheep penn, iron tools and i was so excited to grow up and play with these players that could make iron tools and learn to use all those that were all organised in wooden boxes , it almost seemed like i was dreaming.
But i was welcomed with a grim question;
Mother: code?
All of my excitement vanished instantly , my hopes of learning … All gone in an instant.
But i couldn't give up yet!
I make a pitiful attempt;
I try desperately to communicate.
Me: U.h.m. W.h.a.t.?
Mother: picks me up again you don't have a code.
Me:pl.s. no.
After my mom left me to die i quickly went to other people to try making them feed me.
Me: f! F! F!
The guy feeds me a berry and asks for my name , but my mother comes in and tells that person.
Mother: he doesn't have a code leave him.
The guy was forced to obey and they left me on the ground.
A third person comes in and tells me:
"Ahah lol you die"
I couldn't give up after hearing that.
I decided to scan the village , i thought that maybe i could attempt finding that village as an eve.
My hunger bar had only 1 box left. I accepted defeat.
I admired the town as i was slowly starving.
So all i could do was observe.
I already accepted my fate but a millisecond before my screen turned black i could see a person conversing with 2 people:
"Where is Shannon?"
BINGO
5th: i spawn as an eve , and i met a person called [censored] , i quickly told him that i was trying to spawn in a modern town but they used these stupid codes. We had a plant , and that to infiltrate this group. We called the operation "Pies" , it was also our secret code to identify ourselves. I then proceeded to share my discord account info.
So then we could chat safely in private.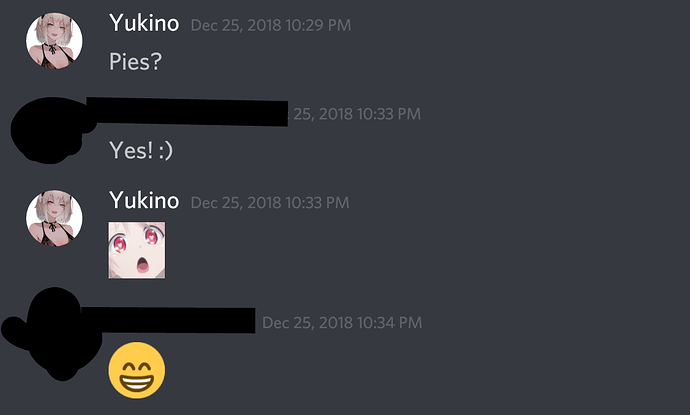 6th: i spawned in this town with codes , my mom asked me for a code and so did my friend , i told him to use the name "Rouger".
I told my mom:
I-t-s-m-e
She: uhm who?
Me: S-h-a-n-o-n !
She then raised me until i could feed my own. I was now officially a part of them.
Mission completed
What should i do now? I asked myself.


[PART 2]= (if link is not here yet it means i haven't written it yet)