Making a new friend / 新しい友達を作ろう
All puppies now have one favorite food, which depends on its breed. If you figure out what that is and give it to them you will have gained a loyal companion that will follow you for the rest of its life.
An extra button, the Command Button, will appear at the bottom of the screen to indicate that you now have a companion.
それぞれの犬種によって違う好きな食べ物ができました。どの犬が何を好きかが分かれば、その後の人生、あなたにずっと着いて来てくれる忠実なお友達になります。画面下に新しいコマンドボタンが出て来れば、お友達ができた証拠です。


In addition to this you can now use the naming button to provide a name for your new friend.
それに加えて、名前をつけるボタンで、あなたの新しいお友達に名前をつけることができます。
What all owners of loyal puppies should know / 忠犬のオーナーとして知っておくべきこと
Just like you, your new friend gets hungry over time. Tapping on your dog will display its current energy level. As a puppy it quickly gets tired but as it gets older it can keep going for a lot longer. Sitting still does not consume much energy but eagerly following your every command will make quick use of it! If the energy drops to zero your pet cannot do anything but waiting for you to give it some food. It can eat anything you can!

あなたと同じように、あなたのお友達も時間が経つとお腹がすきます。わんちゃんをタップすると今の空腹具合が分かります。子犬のときはすぐにお腹がすいてしまいますが、成犬になれば長く保つようになります。座っているだけの間はそれほど体力を使いませんが、コマンドを使えばその分体力が減りやすくなります。体力がゼロになってしまうと、ごはんをもらうまでわんちゃんは動きません。この時、人間の食べ物はなんでも食べられます。
Command Menu / コマンドメニュー
Tapping on the Command Button will show a list of the current commands that your companion will respond to. The list will change depending on the dog's breed and its current energy level.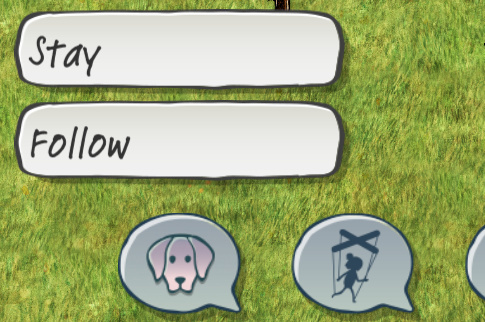 コマンドボタンをタップすると、その時点で使用できるコマンドのリストが表示されます。リストは犬種や体力の状況で変化します。
Special Abilities / 特別な能力
Some dogs have have special abilities, depending on their breed. The list below contains a description of the currently available abilities.
Protect - Your loyal dog will bravely run in front of harmful animals! Unfortunately this has consequences and the wounds received during this selfless act will greatly shorten its life.
Hunt Rabbit - Command your dog fetch you a rabbit and it will rush to the nearest rabbit hole to try to catch a rabbit. If there are no rabbit holes nearby your friend will assume that you were temporarily confused and not do anything.
For an ability to show up on the command menu your dog must both be of the proper breed and have enough energy to perform the ability.
犬種によって特別な能力を持つ場合があります。現在有効な能力は以下です。
守る - あなたの勇敢なわんちゃんが外敵の前に立ちはだかり、あなたを守ります。残念ながらこの時受けた傷によって、命をとても縮めてしまいます。
ウサギをとる - ウサギ狩りを命じると、素早く一番近い巣穴からウサギをとって来てくれます。もし近くに巣穴がないと、飼い主が混乱していると思い、わんちゃんはなにもしません。
コマンドメニューにこの能力を表示するには、それに合った正しい犬種と十分な体力が必要です。
Growing Old and Dying / 老化と死
All good things come to an end and that is true for your loyal dog as well. When its time comes, the Command Button will be grayed out and interactions are no longer possible. After a brief period of grieving over your lost friend the Command Button will fade away and you are free to find a new friend to keep you company on your next adventure.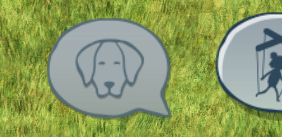 全ての素敵な時間には終わりがあるもので、それはあなたのわんちゃんにも同様です。時間が来るとコマンドボタンが灰色に変わり、もう使用できなくなります。少しのお別れの時間の後、コマンドボタンはフェードアウトし、次の冒険に向けて新しいお友達を作ることもできます。