Today was exciting. Was born to a single mother, (i'm 2nd gen) and gave birth to a single child. Our family line was quite short, (5th gen) but we managed to get berry farms, iron tools and the starting of the sheep pen. Rebirthed once. Then, i died as the last survivor as no babies spawned. (the one i gave birth to died to connection lost i think… instantly died after 1sec)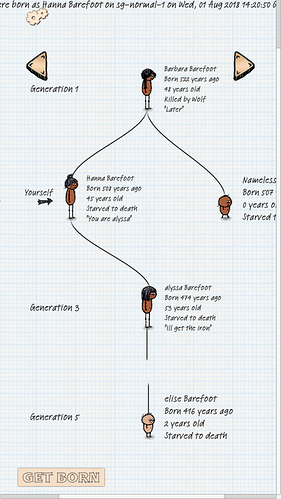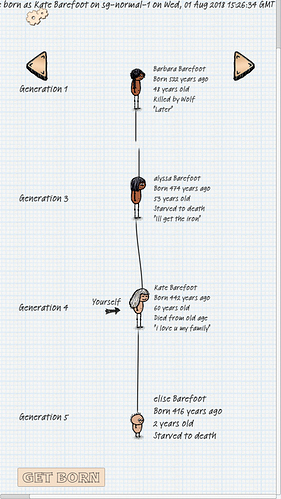 I fully expected the village to die off.
A few hours later, i spawned back into the game … in the same village ! there was already a family starting out there. I was so excited, this was the village i made! i was the one that started the farm and expanded it. They had completed by sheep pen and even made a crown. Gave birth to two more children, spending my time trying to scavenge milkweed and obtain other seeds from faraway lands and trying to find a new vein of gold (my mother wanted to find one)
Got to admit, i was a little lost on what i should do bc i only know how to start farms and sustain them, + make clothes… my children were so smart! they started building wooden floors and whatnot.
By the time i raised 2 children and caught more rabbits for them to make clothing out of, i was getting old. I passed down my clothing, and let myself die.
(i'm sorry, kids who i told you to 'do whatever you want'… i had no idea what to do and that's what my mum told me to do…HAHA)