When does the Christmas activity start?
Santa will appear later this week



I saw him today! He gave me a present, although I do not know how to open it. But I put it under my Christmas tree!!
Scissors and knives are fine.
Stone tablets are also acceptable.
What do you do to get the presents?
Looking for Santa Claus🎅🏻
Make a Christmas tree🎄
I just tapped on him, and it appeared. Not sure that was a trigger, though…I had just spawned so it was a bit startling!
Haha, welp! I opened my present and all that was inside was a piece of charcoal!! I guess I have been a bad girl!




QUESTION: I can see that it's possible to light my tree, and I want to, BUT…good lord I do not want to make 13 candles again! SO MUCH of that oil that is unusable except for making tires! I do not need more!
So the question is…how long with my tree stay lit? When it goes out, will I need to remake all the decorations?
Candles are easier to get.
Go out to find Santa Claus, presents.Easier.
be sorry I'm not good at English.
many words and expressions Can't express
Answering my own question…it remained lit for about a minute, and eventually three gifts appeared underneath!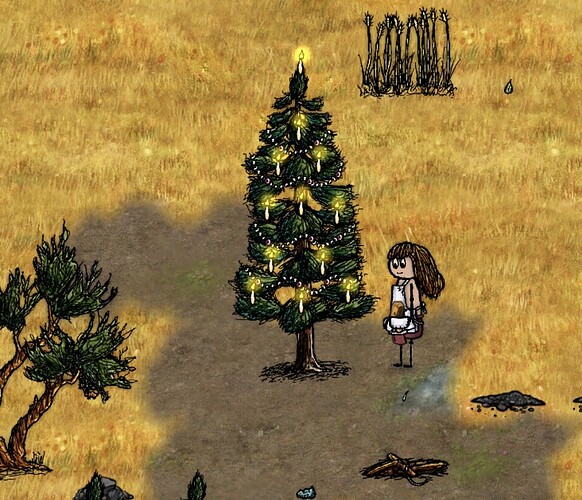 Once it went out, I could open my presents (the best was the full watering can!), and the tree was spent…no option to re-decorate. But after a while, a cardinal came to live in it, so that is pretty! Merry Christmas everyone!!!
This topic was automatically closed 30 days after the last reply. New replies are no longer allowed.