Welcome to update 2.20.0! Here's what's in this update.
アップデート、バージョン2.20.0についてのご紹介です!
New road :
新しい道路:
You can now use gravel to make a gravel road.
砂利を使って砂利の道を作れるようになりました。

Cave mines now have gold:
鉱脈・鉱山から金を採掘:
There's a chance to get gold pieces from breaking rocks from the mine.
採掘した岩から金の粒が出る可能性があります。

Gold pieces can be collected in bowls or carried in seed pouches.
金の粒はボウルと種用ポーチにしまうことができます。
Once you collected a bowl of gold pieces you can smelt it into a gold ingot.
金の粒をボウル一杯集めると、溶かして金の延べ棒に変えられます。

Adjustment to gooseberries:
スグリについての調整
We made some adjustments so a village will need fewer bushes and so it's no longer reasonable to just stand around berry bushes and munch berries.
Wild bushes will regrow all berries every 10 minutes.
Domestic bushes regrow berries in 3 minutes (after you have added soil and water).
Each berry only gives you 2 food points now.
村のスグリ畑の需要を減らし、スグリばかり食べて過ごすことのないように、スグリについての調整を行いました。
野生のスグリは10分ごとに全ての実をつけ直します。
自家栽培のスグリは3分で再生します(土と水を与えた後)。
スグリの実はひとつでフードポイント二つ分に変わりました。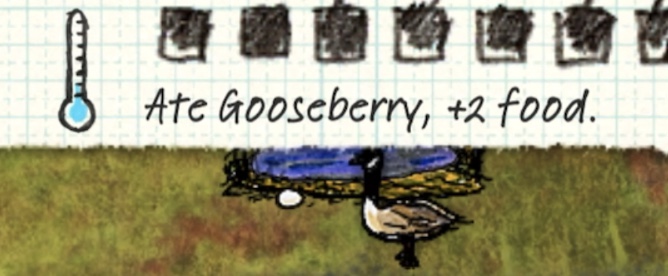 So it's less waiting, but higher work/resource cost per food point.
You can add soil to empty bush before it dries up, so no waiting time until you can regrow the berries.
Domestic gooseberry bushes will despawn berries if you don't pick them on time.
These changes mean that Wild bushes are even better for early settlement, while Domestic bushes are not good for early settlement.
そのため、再生は早くなりましたが、フードポイントからすると仕事と資源のコストは高くなります。実のなくなったスグリは乾くまで待たなくても土を与えることができるようになったので、より早く再生を促すことができます。
自家栽培のスグリは早めに採集しないと、実がひとつずつ消えて行きます。意図としては、初期の村では野生のスグリは効率的ですが、逆に自家栽培は効率が悪くなる、という変化をつけたいというものです。
Bread:
パン
You can take a loaf of bread off of the plate.
パンをお皿からはずすことができるようになりました。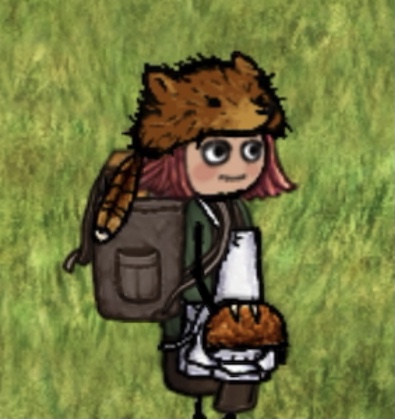 Bread is baked and cut on the large plate.
パンを焼く時と切る時は大きなお皿が必要です。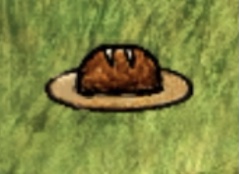 You can feed bread to shorn domestic sheep to use up excess wheat.
余った小麦を使って作ったパンは、毛を刈った羊にエサとして与えられます。
New food item "Stick Bread"
新しい食べ物「棒パン」
Put a skewer in dough and then roast over fire to get stick bread (10 food).
くしに生地をつけて火であぶれば棒パンができます(フードポイント10)。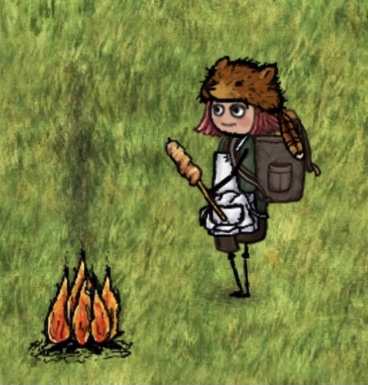 Make dough without having any bowls
ボウルを使わない生地づくり
If you don't have bowls yet, put wheat on a flat rock, grind into flour, and add water.
You can make 3 bread sticks out of one such dough. Great food for early game!
まだボウルがない時には、平らな岩の上で小麦を小麦粉に変えて、水を加えましょう。その生地から棒パンを三つ作ることができます。初期にぴったりの食べ物です!
Adjustments to make items harder to grief:
荒らし行為対策
Shorn sheep cannot be killed, you'll have to feed them first.
刈り込まれた羊は屠殺することができません。まずエサを与える必要があります。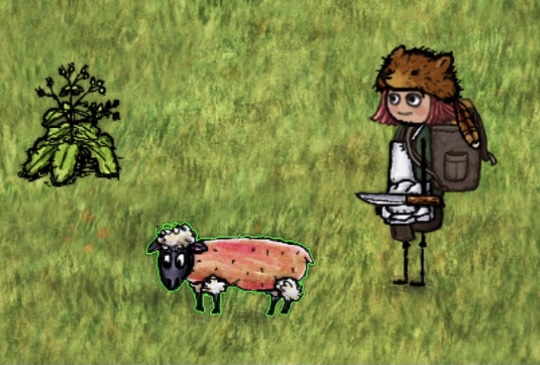 Adjustments to private servers:
プライベートサーバーの調整
You can choose which region to start your private server: Auto, America, Asia, Europe
Note! This choice is made in the main settings - not in the per server settings
プライベートサーバーの設置場所を選ぶことができます:自動、アメリカ、アジア、ヨーロッパ。(注意!)この選択はメイン画面の設定でできます。プライベートサーバーそれぞれの設定ではありません。

Other fixes:
その他の改善
You can put notes on a board.
書いたメモを看板に貼ることができるようになりました。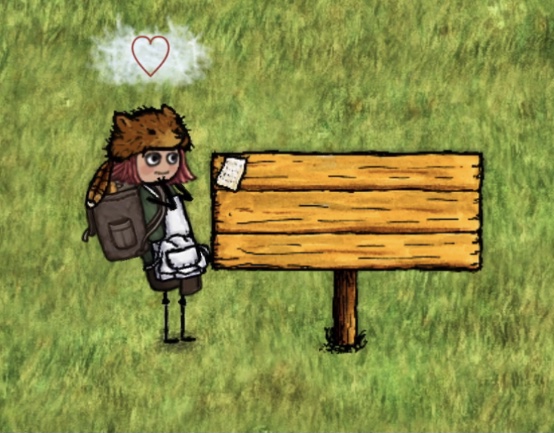 Aprons can now be worn over clothes, like belts. You can't have both an apron and a belt at the same time though.
エプロンをベルトのように服の上につけられます。なので、エプロンと種ポーチを同時につけることはできません。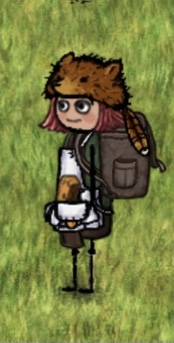 You can now use torch on Newcomen saw.
Playing in practice servers do not effect the cool down of the play button.
You can use tongs to pick up zinc from a pile of zinc.
ニューコメンのこぎりの着火にたいまつが使えます。
練習サーバーを早く終えても、生まれるクールダウンペナルティに響かなくなりました。
亜鉛の山からトングを使って亜鉛を取ることができます。
—-
There's also something else you can do with written notes now, see if you can find it


書いたメモについて、他にも変わったことがあります。探してみてね